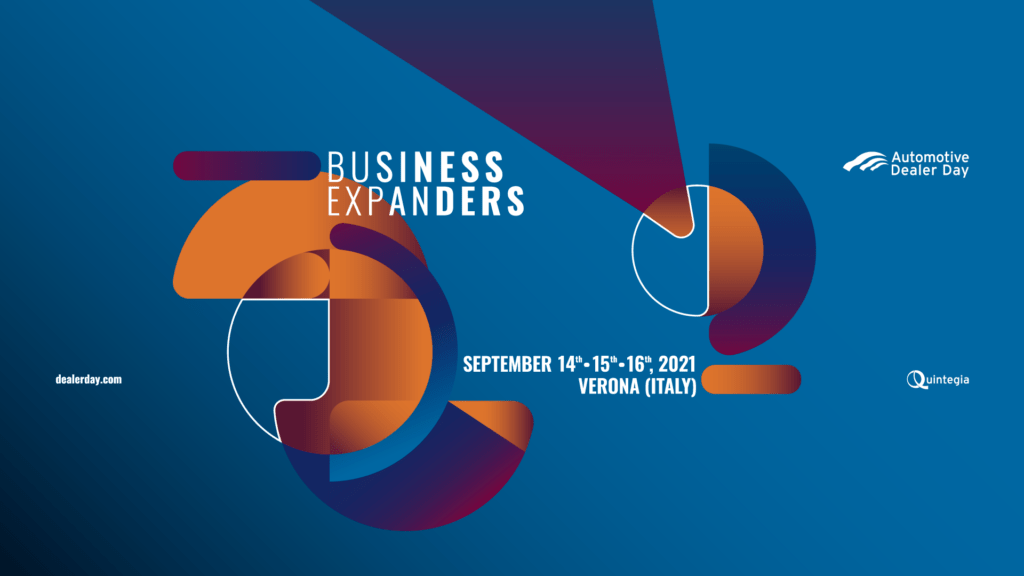 Automotive Dealer Day is rescheduled on September 14th-15th-16th, 2021 in Verona!
22 April 2021
Although the awareness of a high level of uncertainty remains, the desire of Quintegia and all the stakeholders, that in these months have continued to dialogue with us, is stronger and the goal is the same: the comeback of Automotive Dealer Day as the leading event that is always been for all operators.
The digitalization has allowed us to reshape and carry on the usual business activities and to try out new forms of networking, but it has also implicated a flattening of experiences, which makes even stronger the need for a physical meeting for a high-profile event.
For these reasons, we have decided not to cancel the 2021 edition of Automotive Dealer Day, but to reschedule it on September 14th-15th-16th, 2021 in Verona.
The wish is to offer, according to current regulations and protocols, an experience that brings us back to a format as similar as possible to the original version, to enhance ideas and tools and build new business relationships.
With all of this in mind, we have chosen a payoff that can represent an edition once again renovated and innovative: Business Expanders. After having explored the new perimeter of the automotive industry and the demand for emerging mobility, the primary goal for all players is business expansion. This is a game to play on multiple dimensions: horizontal, vertical, lateral, and it requires a transversal look, crossed insights, a vision on the supply chain. Automotive Dealer Day 2021 is the running engine to expand the business today and tomorrow.